| | |
| --- | --- |
| Home of Aod and Thanh .... | |
| | |
Here now our "wrist camera" watches... these are pretty usefull things, can they help in situations such as car accidents etc, the picture quality is fairly good, ideal to take snapshots of things like license plates etc... The watches are made by CASIO and the camera has a resolution of 400x400 pixels in 16 grey steps. Not bad for a watch... it can save 100 pics inside, a battery-loss-proof memory, and any pic can be attached with a text file such as a phone number, name and adress. These pictures can be uploaded to a computer via infrared beam, and the same way also allows sending between two watches of the same type. Even downloads from the computer to the watch are possible! The pictures are in standard jpg format... but uploads to the watch can be done from just any file, the software convert automatically to a jpg...
Well, let's see what i am talking about! Here they are...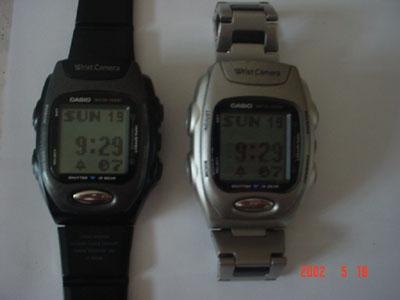 mine's the metal one, Aod prefers the black style...
Aod's, here showing a picture of me (shy....) but it's blur coz the camera i took this pic with can't get close objects that sharp (Sony Cybershot)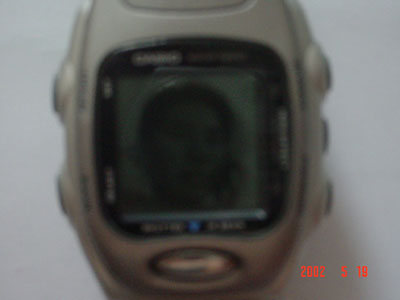 That's mine, showing Aod's photo... he's a cute guy!
---
Now... as i said, they can take photos, so here are a few examples how that looks :) Sorry they aren't bigger... remember, it's a wrist watch!
my old computer, after i rebuild it... (good if you want to sell something, always have a photo with you)

That cute Doraemon includes a radio and rests on our Television

Aod, here at the golden palace in Bangkok...

Me, at the same place...

Hee hee that's what i do at work... building Red Bull bottle towers :)

My favourite pic... isn't he a cute guy..??
And romantic too!
---
If you like these toys, check out the local CASIO dealer... they aren't even expensive! So around 250 us$ must be invested, and one of them is yours...
This page relaunched on July 10th, 2003 by Thanh